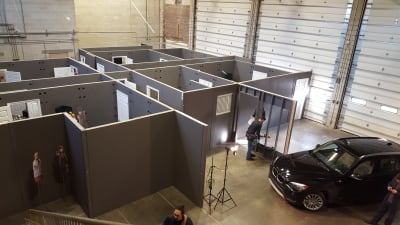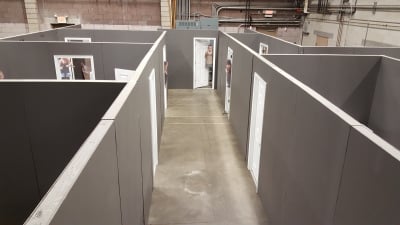 The Multi-Level Sim-Round Shoot-Houses were designed to provide you with the actual environment you will be in when you choose to not be a victim.
Both Shoot-Houses are 100% Modular and are reconfigured each week to keep your training dynamic.  Each section is 4'x8' and comes in different configurations such as Walls, Doors, Windows, Crawl Spaces, Obstacles and more.
Our Coaches & Instructors configure the layouts for Homes, Offices, Stores, Gas Stations, Banks, Hotels, and more. 
Fully furnished with 2 sets of stairs, working elevator, controllable: targets, lights, sounds, and cameras.  Students and their Coaches can review their sessions in the control center using the video from the cameras in the ceiling.
Our Lessons plans were created with a Crawl, Walk, Run principal.   Students will progress from paper targets to photographic targets to mannequin targets to real people.  Advanced lessons include Force on Force training with full combative gear.  You will make contact with your adversary, how the fight ends is up to you.
We rent all necessary gear and provide Coaches and Instructors with real-world experience to guide you through.  
Finally, law-abiding citizens get the opportunity to train the way Law Enforcement and Military personnel have been for years.  You will learn more here in 30 minutes than years of training on the range.  The best training for an event is the actual event itself.
Members can have custom layouts designed for their own personal environments.  After Members have been cleared, they have access to the Shoot-House.